COBBERDOGS FOR THERAPY AND ASSISTANCE
We are a comprehensive canine centre specialized in therapy and assistance dogs
---
We have our own Australian Cobberdog breeding programme, especially designed to train therapy and assistance dogs,
genetically reinforcing their qualities as hypoallergenic dogs with an even temperament.
 THE PARENTS OF OUR PUPPIES ARE THERAPY AND ASSISTANCE DOGS
After several years of carrying out dog-assisted interventions and training 
therapy and assistance dogs
, we have come to the conclusion that the best way to ensure that a dog is suitable for doing this work is to have control over the selection and breeding process. This is why we breed the very dogs we use for therapy and interventions, and train them to become
assistance dogs and canine therapists.
This way, in each litter, we reinforce optimum qualities to turn the puppies into exceptional dogs, capable of doing this work.
OUR AUSTRALIAN COBBERDOGS IN ACTION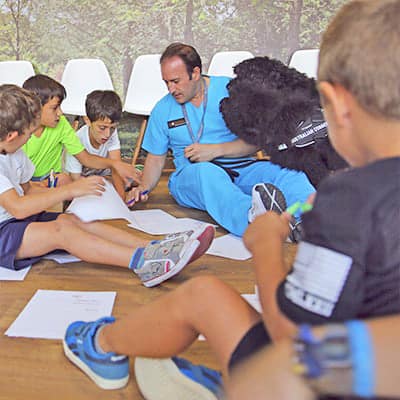 THE THERAPY DOG
A therapy dog performs sessions in centres and hospitals, or individually with a dog-assisted intervention technician. During the sessions, the individual's specific capacities are worked on with the dog's participation, in order to energize the exercises and encourage motivation. Because of its appealing appearance, the Australian Cobberdog is very well-received by all users and, since it is hypoallergenic and doesn't lose hair, it is also accepted in most centres and hospitals.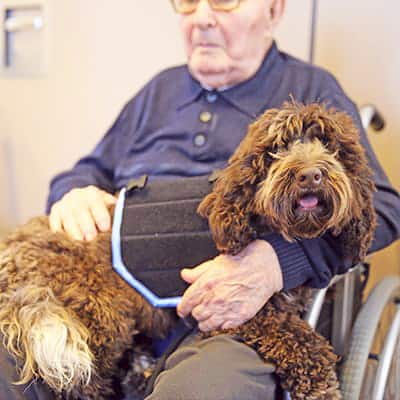 THE ASSISTANCE DOG
There are 5 types of assistance dogs: guide dogs, service dogs (for people with physical difficulties), hearing dogs (for people with auditory impairment), alert and response dogs (to respond to epileptic attacks and drops in blood sugar) and dogs for children with autism. The Australian Cobberdog is a wonderful assistence dog, since it learns the demanding training programme that assistance dogs must go through very quickly.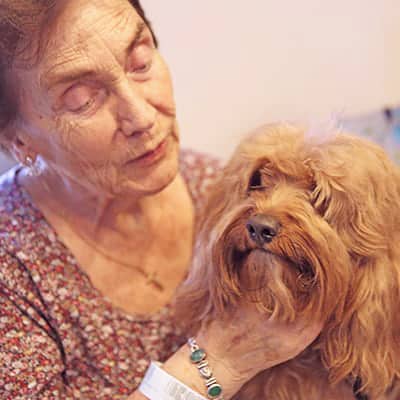 THE CANINE THERAPIST
A canine therapist is a dog that combines the qualities of a therapy dog with those of an assistance dog. These are dogs that live with families to facilitate daily tasks, in addition to participating in the sessions carried out by the different professionals who treat the person (physiotherapists, psychologists, pedagogues, etc.), in order to motivate the user to carry out the therapy. Considering that they are excellent therapy and assistance dogs, Australian Cobberdogs are the perfect canine therapists.
OFFICAL COLLABORATORS WITH LA CAIXA FOUNDATION AND FEDER
At DOGKING, we are undertaking an initiative of solidarity with the 
La Caixa Foundation
 and
the Spanish Federation of Rare Diseases
(FEDER). Thanks to this initiative, families with children affected by highly discapacitating syndromes can learn about the many benefits of having a therapy and assistance dog in their homes.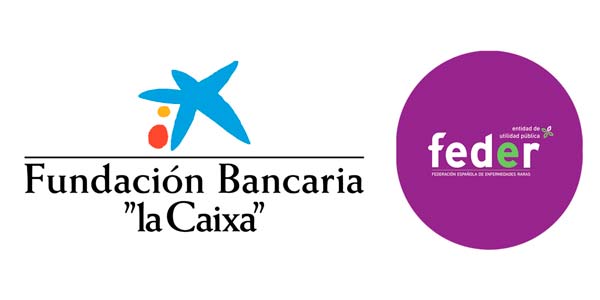 BREEDERS SPECIALIZED IN THERAPY AND ASSISTANCE DOGS
We are a comprehensive canine centre specialized in 
therapy and assistance dogs
with its own breeding programme. Through training our dogs, we offer a dog-assisted therapy service and train assistance dogs for people with special needs. This is why we developed our 
Australian Cobberdog
breeding programme to include the best specimens to carry out our projects and facilitate this breed for the work of 
assisted therapy technicians
and assistance dog trainers worldwide. Our breeding programme focuses on ensuring that 100% of our puppies have optimum qualities to be great therapy and assistance dogs. 
How Australian Cobberdog puppies are breed
The ideal therapy dog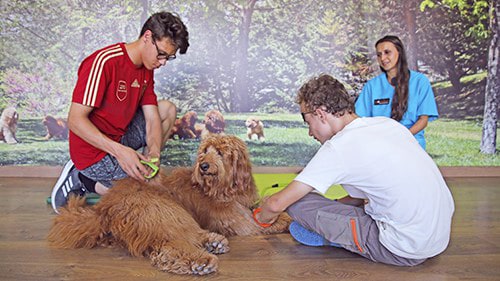 THE BENEFITS OF THERAPY
AND ASSISTANCE DOGS
Improves social skills
Satisfies the need for physical contact
Sets concentration
Reduces stereotypical behaviour
Improves self-confidence
Acts as an antidepressant
Creates acceptance
Improves empathy and self-esteem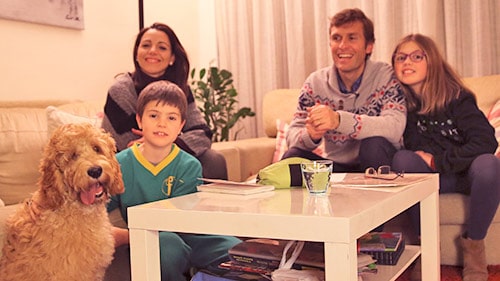 GUARDIAN HOMES
DOGKING homes are families that voluntarily offer to take our future therapy and assistance Australian Cobberdogs into their homes during the puppy phase. They are responsible for teaching it basic cohabitation, all while offering all the love of their home. The families that participate in this programme should meet a few basic prerequisites. Do you want to be a DOGKING home?
More info about socializacion