CAN I CHECK TO SEE IF I AM ALLERGIC TO THE COBBERDOG?
If you are looking for a hypoallergenic dog, the Australian Cobberdog is your best option
---
The Australian Cobberdog has a coat that doesn't shed, doesn't lose hair or produce dandruff.
This means it doesn't dirty the house or distribute allergenic agents where it goes.
ARE YOU ALLERGIC TO DOGS?
Even if you have been told you are allergic to dogs your whole life, you are probably only allergic to most dogs. And lucky for you, the Australian Cobberdog isn't in this category of "most dogs" and is certified as a hypoallergenic dog. Nevertheless, allergies are different in everyone, and the combination of several different factors and sensitivities to change. This is why, even though the Australian Cobberdog presents an almost null incidence of allergic reaction in people who are allergic to dogs, it is important to make sure of this before buying a puppy.

THE HYPOALLERGENIC DOG
The Australian Cobberdog is
hypoallergenic
because it doesn't shed its hair, nor does it fall or produce dandruff or peeling, known as desquamation (unless it suffers from a dermatological problem). In addition to this, the percentage of people who have an allergic reaction to its saliva is very low. In fact, the breed was developed to create a hypoallergenic dog with a 
temperament
that would be suitable to serve as a therapy and assistance dog. This is why, for most people, our dogs are Allergy Friendly.
.
Learn more about hypoallergenic dogs
HOW CAN YOU BE SURE THE AUSTRALIAN COBBERDOG
WON'T PROVOKE AN ALLERGY?
We propose 2 methods to make sure that your future Australian Cobberdog will not provoke itching, burning or watery eyes, skin rashes, headaches, sneezing, asthma, or any other allergic reaction.
1. COME MEET OUR PUPPIES
The best way to know if you are allergic to the Australian Cobberdog (and the most adorable), is to cuddle one of our Australian Cobberdog puppies in your arms, spend time petting it and let it give you lots of kisses. If this doesn't provoke an allergy, it means that you can live with this Australian Cobberdog.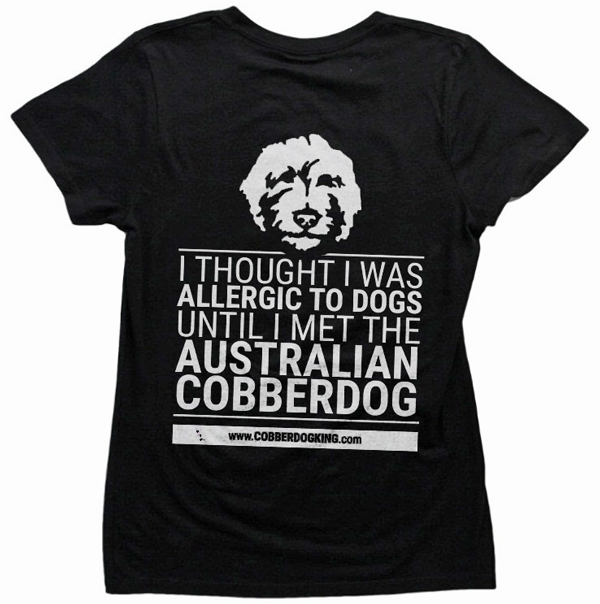 2. TRY ON YOUR ALLERGY TEST T-SHIRT
If you live far away from us, don't worry. We can send you our Allergy T-Shirt, which you should try on for 30 minutes to see if it produces an allergic reaction. If you feel fine while wearing it, it means that your future Australian Cobberdog will not provoke allergies.

STILL HAVE DOUBTS ABOUT OUR
AUSTRALIAN COBBERDOGS PUPPIES?



Information and enquiries about the Australian Cobberdog
Contact